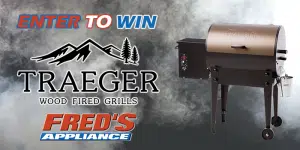 Here's your chance to enter and WIN one of the top wood pellet grills in the industry, a Traeger Grill. Taste the wood-fire difference with a Traeger Tailgater of your own valued at $449. Simply fill out the form below and you'll be automatically entered to WIN a Traeger Tailgater courtesy of Fred's Appliance.
"I have been using wood fired pellet Traegers for over 10 years. I have over 400 BBQ trophies at my house competing with the best pellet grills. You got gas grills, everyone seems to have them, the problem is they don't give any flavor. At the end of the day, you're grillin' like a villain having a great time. Traeger BBQ Grills take my everyday and make it extraordinary with wood fired flavor goodness."
The Traeger Tailgater has 300 sq. inches of grilling space, 19,500 BTU's, digital elite temperature controller, EZ fold legs and shutdown cycle.
Enter to WIN a Traeger Grill from Fred's Appliance
OFFICIAL RULES – By entering, you agree to our use of your personal information as per our Privacy Policy and Terms of Service(Links Below). I understand that I can unsubscribe at any time by sending an email to unsubscribe@smgnorthwest.com with "unsubscribe" in the subject line.